"My Road Trip to the Texas Democratic Women's Convention"  by Carol Ann Cohen
What's not to love about carpooling to Austin with two other P.O.B.s? (For the uninformed, that's Pissed Off Bitches.) Our fearless leader, NDTDW president Lenna Webb, drove.  Carin Hughes & I enjoyed a (mostly) safe, climate – controlled journey.
Lenna is our club's seasoned, intrepid, tireless contribution to T.D.W.   Even with our enthusiastic contingent we were unable to get her elected treasurer.  She remains, state-wide, our best untapped resource.  GO LENNA!
Once we arrived in Austin, we Three (Feministsas?  Femineers?  Demoncrats?) huddled – up with our other NDTDW warriors: the esteemed Judy Baker, Swati Joshi, Whitney Warren, and hard-working board members (& sisters) Crystal Hughes & Glenda Pasley& their sweet, supportive spouses, Jim & Arthur.
We were "speeched" at by many inspiring Honchos of the Texas Democratic party.  However, the best of the best was the honorable (& legendary) Sarah Weddington.  Again, for the uninformed, Sarah, still in her tender twenties, argued & WON Roe v. Wade before the '73 Supremes. She was everything one would expect her to be.   Complete with great storytelling & wisdom to contemplate.  Hope she never dies.  Cuz every generation will need her.
Speaking of the generations, it occurs to me that our trip couldn't have been book-ended better.  Thanks to Lenna & Bob's excellent taste in musical theater our traveling entertainment (all the way to & from the convention) included music from, wait for it…HAMILTON!  Joy! Joy!  Joy!
"The best part about the convention.." by Crystal Hughes
..was getting to see Sara Weddington again and her colorful speech that she delivered on Saturday night.  I saw Sara many years ago (2003 I think) at the giant march on Washington DC for pro-choice advocates when W was President.  Sara gave a stirring speech at the march.  It was also good to see Mike Collier and Kim Olsen again.  They always give a rousing speech about why it is so important to vote for them.
Our Three Star Award Winners (for outstanding service to NDTDW)
Our Treasurer, Judy Baker getting her award.  Swati Joshi, board member,  and Whitney Warren, GOTV chair, shown with Mike Collier.
And then there were Bylaws …
Lenna Webb headed the Bylaws Committee for the 2018 Convention.  Serving with her were past TDW President, Alicia Hux and TDW Board Member, Sharon Davis.  The recommendations of the committee were met with mixed results.  The splitting of the Bylaws into two documents, Bylaws and Standing Rules was defeated by only two votes after a comment from board member, Barbara Gardner, objecting to the move because of an issue with how the Standing Rules would be amended. Lenna tried to explain that issue was addressed in an amendment to be presented later, but failed to persuade enough to pass the revision.
An amendment that dealt with conference telephone calls being announced to the TDW membership and having the Secretary taking notes to be added to the official record passed.  Also, the length of time a person must have served on the TDW board before running for President Elect, was increased to two years. A new annual award presented at the annual convention was added and clarification of who decides the awards was passed.  The new award if for "Outstanding Chapter Member" which is recognition by TDW, not just a chapter (which is what the Star Awards are), of a member who has done outstanding work for their chapter and TDW as a whole.
An amendment regarding who serves as the TDW representatives on the SDEC was defeated and an amendment which specifically defines dues for members-at-large and minimum amount clubs send to TDW for chapter members was tabled.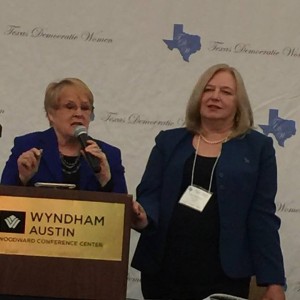 My View, by Swati Joshi
I recently attended the Texas Democratic Women's (TDW) convention in Austin.  I was not sure what to expect, but was very pleasantly surprised at the turnout and the enthusiasm of the marvelous women who attended.  There were women there who have been attending for many years and there were newbies, like me, who were attending for the first time.  The recent surge in Democratic participation, mainly due to the Republican leadership allowing D.Trump to run rampant over the US, has made activists of us all.  We cannot allow this decline in our culture and values to continue! And so, I was happy to be at the convention and hear inspiring women speak.  It is important during these difficult times to be reminded that we need to join forces and work together to improve our lives and our children's lives.  However, we need to stay on this course and continue to work together all the time.  One way to ensure that our values and principles perpetuated and continue through to the next generation, is to VOTE.  We must all vote at every election.  Voting is the most important aspect of keeping our values strong in this country.  Another aspect is to attend similar conventions, local and national meetings, being part of like minded groups, and even running for office.  I encourage everyone to attend next year's TDW convention, join NDTDW, and become an active member!
A BIG THANK YOU TO OUR LOCAL SPONSORS OF THE TDW CONVENTION
North Dallas Texas Democratic Women
Honorable Susan and David Bradley
Judge Dale B. Tillery
State Senator Royce West
Honorable Elizabeth Frizell
Judge Sally Montgomery
Honorable Carol Kent
Judge Ken Tapscott