Resistance in Action: Postcards to Voters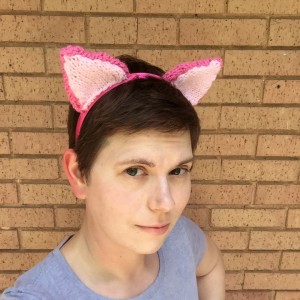 by Lisa Woof
In the aftermath of the election, I found myself stunned and horrified. I wanted to do something that would make a difference, find a way to put my talents to use to help push back against the negative turn I saw my country take. By my nature I am a maker. I like to produce tangible, tactile things. This expresses itself in many ways, from my professional life as a structural engineer to my personal life as a knitter. For me, action has to be tangible. As a knitter, I was initially drawn to the Pussyhat Project. I made hats for the Women's March in D.C. and for local activists. The follow up craftivist campaign, Welcome Blanket, just hasn't appealed to me in the same way, mostly because knitting a blanket during a Texas summer is about as appealing as wet toast. Calling your elected officials is all well and good, but what's a craftivist to do in the meantime?
Friends, I have found my new favorite resistance activity: Postcards to Voters.
Earlier this year, Georgia's 6th Congressional District was in the spotlight. Helping to boost Democratic voter turnout for its April primary was the inspiration for what grew into a nationwide grassroots initiative called Postcards to Voters. Nearly 6 months and 190,000 postcards later, close to 4,000 volunteer writers from almost every state have helped 9 candidates from Georgia, Oklahoma, Virginia, Iowa, New Hampshire, and South Carolina. Offices sought have been in Congress, school boards, state senates, state houses, and even city council. Postcards to Voters' aim is to provide a continuous mail flow of grassroots-inspired, handwritten election reminders to voters anywhere a Democrat is in a key, close election to defend or flip a seat.
Notably, the candidate wins Postcards to Voters has played a critical role were:
Karen Gaddis in Oklahoma. She won by 95 votes. Postcards to Voters wrote over 13,000 postcards to every Democrat and Independent voter in her State House District. Each voter received two handwritten election reminders endorsing Karen from two different volunteers.
Kevin Cavanaugh in New Hampshire. He won by fewer than 1,000 votes in a State Senate District where Republicans outnumber Democrats. Postcards to Voters sent over 14,000 postcards to his voters. Again, two per voter.
Phil Miller in Iowa. He won by fewer than 600 votes. Again, Postcards to Voters mailed every targeted voter in his State House District twice.
Averaging some 1,500 voters' addresses assigned daily is achieved through a combination of interactive text services and streamlined, automated email processes. About half the requests for addresses are handled by Abby the Address Bot. The other half of the volume is handled via email. Answering questions, approving new volunteers after evaluating digital images of their first 5 written cards, and assigning addresses is the bulk of what is handled. They also add the volunteer credentials to the Abby text system for newly approved writers so that they can request addresses from Abby directly instead of using email.
Postcards to Voters also has a link to our organization: Tony McMullin, aka Tony the Democrat, the founder of Postcards to Voters, is a former member of NDTDW. Tony lived in Dallas for 28 years before moving to Georgia in 2013.
What I love about Postcards to Voters is that they will send you all the information you need to write the cards – similar to getting a pattern for a knitted hat – and all you have to do is provide cards and postage. The instructions are detailed and while there is some required wording for every card, there is also a long list of optional talking points from which the volunteer may pick and choose depending on the size of their writing and size of the postcards and how much room that have to fill. You can decorate them or leave them plain, but no matter how much craftiness you put in, you are helping out a deserving candidate by reminding voters to go out and vote!
I hope you will join me in writing for this amazing grassroots movement!
Follow Postcards to Voters at www.Facebook.com/TonyTheDemocrat.org
Sign up to write postcards at: Postcards@TonyTheDemocrat.org
Note from President, Lenna Webb:  Tony is one of my favorite Democrats and a true activist.  We miss him here in Dallas.