Recap 2017 TDW Retreat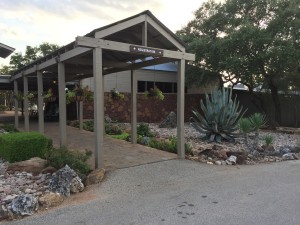 TDW Members came from all over the state.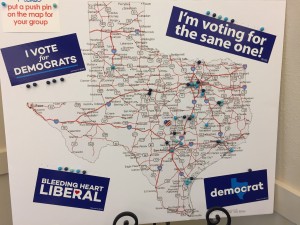 Seven NDTDW members enjoyed the rustic atmosphere of the Canyon of the Eagles Resort outside of Burnet, TX the weekend of August 4th.  Friday afternoon,  attendees had the option of a Wine Tasting and Tour which set the stage for this relaxing weekend. Saturday was the main event featuring retired District 1 Congressman, Jim Chapman with the good news being the renewed enthusiasm of Texas Democrats since Trump/McConnell/Abbott & Paxton have starting showing the terrible results of their "leadership???".  The main theme of the Retreat was Conservation with Katherine Romans, Executive Director of the Hill Country Alliance, Elizabeth Doyel, Executive Director of the League of Conservation Voters and Reggie James with the Lone Star Chapter of the Sierra Club speaking on the aforementioned "leaders" have negatively impacted our land, sky and water in Texas.There was discussion of HB335 related to fixing the problem of lead contamination in the drinking water in public schools.  This not from contamination from the source but from the antiquated pipes in many of the schools.  Passing this bill would create jobs for those performing the work but, more importantly, keep Texas Kids safe from health hazards such as faced in Flint, MI.  As of 8/8/17 the bill was left pending in committee.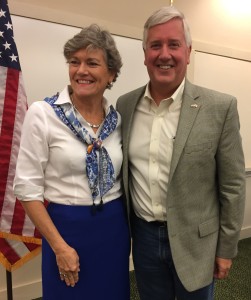 After lunch we were all energized by Kim Olsen and Mike Collier.  Who knew that the Agriculture Commission could effect so many aspects of Texas society. As a farmer, veteran, fighter pilot and champion of education, Kim is dedicated to influencing the future of sustainable food production, improving markets for Texas produce such as helping rice farmers sell to Cuba; replacing current unsustainable farming technology; reducing food waste (we currently throw away 40% of our food); and developing local crop production in our own communities.
Kim's mentor as a Statewide Candidate is Mike Collier who is now taking on Dan Patrick for Lt. Governor.  As a CPA with a long history in business, Mike understand how corporations work and he has concrete answers to solving Texas's financial problems which started back in 2006.  He has located $4 billion in property tax loopholes.  He believes that Texas can replace standardized testing where students fill in the bubble to mark their answers (which makes big bucks for the producers of the tests and are reducing real learning by students) with updated electronic technology.  If we help our schools, teachers and students, we can reduce our prison population …. how? Did you know that the state projects how many prison cells are needed by the literacy rates in 3rd grade!  Give our students a safe place, a warm meal and a taste of learning and literacy rates go up, prison inmates decrease! Saturday night, most of those attending went on the "Vanishing River Cruise" featuring wildlife, waterfalls and gorgeous scenery.
The Highland Lakes TDW was the host club for the retreat and they did a bang up job.  A little peak at 2018; NDTDW is working on hosting the retreat right here in Dallas.