NDTDW Meeting, January 25, 2018
Judge Elizabeth Frizell, candidate for Dallas DA; The audience; Candidate Jill Johnson for HD115; Kim Olson candidate for Ag Commissioner; and Mike Collier candidate for Lt. Governor.
Candidate Forum, January 28, 2018
Full House at Forum; Lupe Valdez candidate for Governor; NDTDW table at the event; Mike Collier candidate for Lt. Governor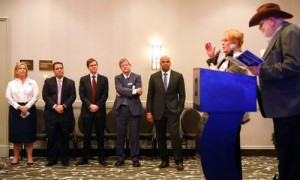 Photo from the Dallas Morning News featuring top 5 CD32 candidates and NDTDW President Lenna Webb and FNDRD President Robert Franklin at the forum.
Texas Democratic Women Convention, February 10, 2018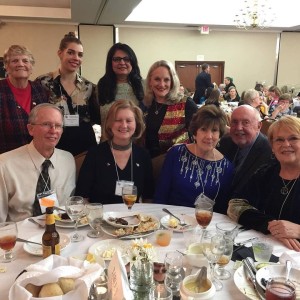 Back row, Judy Baker, Whitney Warren, Swati Joshi, Carol Cohen.  Seated Jim Hughes, Crystal Hughes, Glenda Pasley, Arthur Pasley and Lenna Webb
TDP Chair, Gilberto Hinojosa; Keynote speaker at Gala Dinner, Sara Weddington
TX32 Democratic Forum, February 28, 2018
Moderator, SMU Professor and Blue Wall Dallas member, Karisa Cloward and the panel of CD32 Candidates.