NDTDW Newsletter

February 2018
President's Message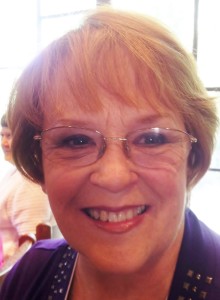 Something new to add to your calendar, the Texas Democratic Women's Annual Retreat!  It will be right here in Dallas.
Saturday, August 4th, with optional activities on Friday night and Sunday. Dallas Sheraton Hotel on Olive Street in downtown Dallas.  Close to DARTrail and McKinney Ave. Trolley and all the attractions of the Arts District.  The NDTDW board is working on the content of the day-long retreat as well as the optional entertainment.  We welcome all input from our members and certainly hope that you will put this on your calendar to Save The Date.
We have participated in two different candidate forums, both highly successful. First on January 28th, we joined with the Far North Dallas Richardson Democrats to put on our 8th Biennial Democratic Primary Candidates Forum.  We held it at the Wyndham Hotel near Coit and the 635.  Great venue and location and we filled the room.  NDTDW was responsible for the production of a printed voter's guide and the check-in of candidates and attendees.  If you missed it, the voter's guide is available here.
On February the 18th, NDTDW took the lead in organizing the TX 32 Democratic Forum.  We pulled together Swing Left, the Blue Wall and three of our board members and we produced an outstanding forum.  All five of the candidates participating, Colin Allred, Ed Meier, George Rodriguez, Lillian Salerno and Brett Shipp told us they loved the format and that we asked the in depth questions which, we believe, brought out the different strengths and weaknesses of the candidates.  I for one now am having a really hard time deciding who to vote for.  NDTDW produced the program for the event and live streamed it through my Facebook page. You can view it here.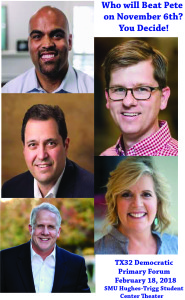 Right now – VOTE!  Early voting goes until March 2nd, with the actual election day of March 6th, 2018.  We really have to get the NextGen group to the polls and let them know how important it is to them personally.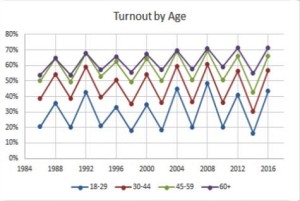 Check our Upcoming Events page to see what our programs will be for the next few months as they are scheduled and confirmed.
And remember, it only takes one strong woman to change the course of anything.  Be that woman and let's turn Texas Blue and take back the Senate and the House.
Lenna Webb, President