Sponsor TDW Retreat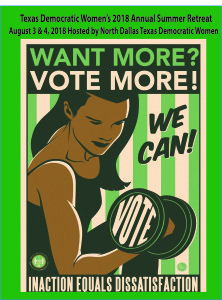 On August 4th, 2018, NDTDW will be hosting members of Texas Democratic Women from all over the state, here in Dallas for our annual Summer Retreat.  Last year the retreat was held in Burnett, TX at a beautiful wilderness resort, so coming to Dallas will be a different experience for the 150-200 women that will attend.
The retreat will be held at the Sheraton Hotel on Olive Street in downtown Dallas.  We are getting a good hotel room rate, but as you probably already know, the cost of catering at any hotel is high.  We are aware that TDW has members on limited, often fixed incomes, and the cost of a hotel room and another $75-$125 for the meeting will not be able to fit into many budgets.
We would also like to keep the cost of the event as low as possible.  To do that, we are looking for sponsors for this event.  If you help us out, you would be listed as a sponsor in our literature and program as well as on a display board at the event.
We also will be hosting a
Meet and Greet for Statewide and local candidates
on Friday night,6 – 7:30 PM in Chaparral Main Room, with Cash Bar – Room is on the 38th floor with amazing views.
We sincerely hope that you will join us for this event. Click Here to Confirm that you will attend the Meet & Greet!
Please consider one of these sponsorship levels!
Blue Tsunami – $1500.00
Blue Tidal Wave – $1000.00
Blue Tide – $500.00
Blue Wave – $250.00
True Blue – $100.00
Dallas has been the bluest county in Texas for the longest time, and you can help welcome all these women, most of whom live in deep red counties, to the city with a Big Blue Welcome! 
or mail your check to:  Judy Baker, NDTDW Treasurer, 121 W. Taylor Street, Sherman, TX 75092