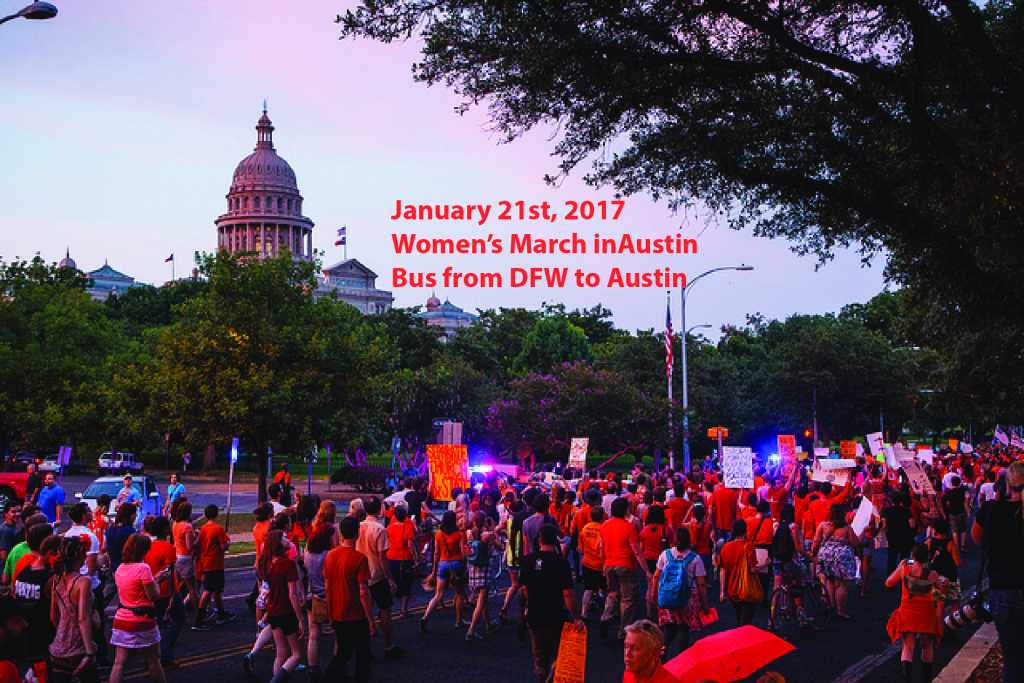 ALL BUSES ARE FULL.  NO MORE WILL BE ADDED



Also, the bus company is sticking to it's cancellation policy which requires cancellation two weeks before the event in order to get refunds.  They insist that even under the circumstance of there being an ice storm and the highway patrol saying not to drive I35, they would not refund.  So be aware, that we will be unable to offer refunds either as we must pay for all buses by January 6th!
We all need to let off steam and gather to practice some Political Group Therapy after the election of Trump as President.  What better way than to ride to Austin and back with like minded people on a bus trip to the WOMEN'S MARCH – AUSTIN, which is the official event authorized by the organizers of the Women's March to D.C.  Many states are organizing their own marches for those who cannot make the trip to D.C.
We have contracted for the four buses that will depart from the south parking lot of the Northaven United Methodist Church, 11211 Preston Rd (between Forest and Royal Lanes) at 7 am sharp on Saturday, January 21st, 2017,  returning approximately 7 pm. We also have a bus staged from the Grapevine Mills Mall for those of you from Tarrant County.  We will announce the exact location in their vast parking lot soon. Our newest bus will stage from the Valley View Mall parking lot.  Watch for emails showing exact locations from the two parking lots.
To register, fill out the form below.  If you wish to pay by check, make it out to NDTDW and mail to:  Judy Baker, 121 W. Taylor Street, Sherman, TX  75092.