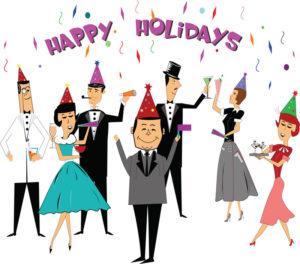 It is time to PARTY again and CELEBRATE our Dallas County Democratic Wins with NDTDW and FNDRD!
Saturday, December 1st, 2018 – 6 pm
FOOD, FRIENDSHIP and TOYS

As in past years, we gather together to celebrate the holidays, visit with old and new NDTDW members, and mingle with many elected officials and successful candidates for office as well as those that came oh so close!
Lenna Webb & Bob Franklin's Home
17201 Hidden Glen Drive
Dallas, TX 75248
MAP
ALL DEMOCRATS WELCOME – JUST RSVP! By November 29th.
RSVP HERE (we really need to know how many people are coming!)
NDTDW will supply the meat course along with a vegetarian alternative and beverages. We ask that you or your group bring a dish based upon the
FIRST LETTER of your FIRST NAME.
A – F = Dessert, G – L = Vegetable or Starch Side Dish,
M – R = Appetizers, S – Z = Salad
That means NDTDW members, spouses, partners, friends and any other Democrat wanting to get to know other Democrats are welcome!

DON'T FORGET TO LET US KNOW YOU ARE COMING TO THE PARTY!
NDTDW's tradition is to gather from those attending our party, UNWRAPPED TOYS for donation to the North Dallas Shared Ministries. Republicans are making it more and more difficult for low income families to provide for or receive basics such as food and shelter, much less gifts for their children. As the compassionate people Democrats are, we will provide toys to this "last resort" organization!