Home
Thursday's Meeting …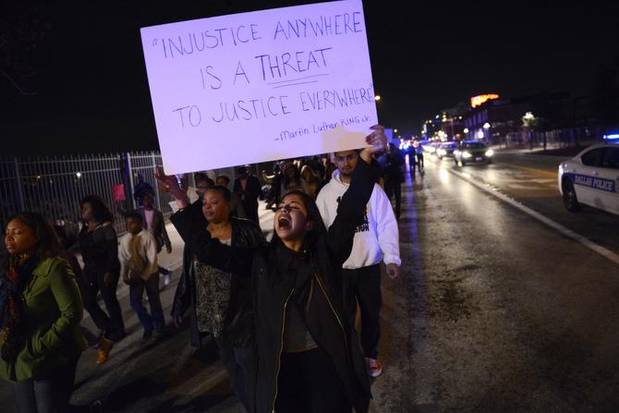 Diverse Panel to Discuss, Dallas: Before and After Ferguson

"Whether a person is killed in Ferguson, New York or Dallas by police, under questionable circumstances, all people of conscious want to explore why this is happening and what can be done to stop real or perceived over-reaction from law enforcement. Residents of North Dallas are just as interested in community relationships with law enforcement as those largely minority communities in South Dallas" says Lenna Webb, President of North Dallas Texas Democratic Women. "Meetings are happening all over Dallas, and now there will be one in North Dallas."
North Dallas Texas Democratic Women will host a panel discussion which will explore how law enforcement has reacted to the current challenges and how community activists view what is being done and what still needs to be done. The panel will include: Deputy Chief Vernon Hale (former commander of the South Central Patrol Division, now commander of the Narcotics Division) Dallas Police; Sheriff Department Chief Marian Brown; Dallas District Attorney Susan Hawk; John Fullinwider, Co-Founder of Mothers Against Police Brutality; Walter "Charga" Higgins a longtime organizer for police reform and Charles Goodson, Co-Founder of Dallas Communities for Change .
Thursday, February26, 2015, 6:45 pm
Northaven United Methodist Church,
11211 Preston Rd, Dallas 75230
Email: info@nddw.org or msnilknarf22@att.net
Free and open to the public.
As one of the most active clubs in the Dallas area,  members of the NDTDW have found many ways of practicing Political Group Therapy.  We meet monthly for programs of substance related to local, state and national issues.  See our Coming Events Page for our regular social group meetings (which include a Book Club and Movie/Dinner Club) which are a great way to get to know your fellow democrats.  During the year we schedule a Summer BBQ and December Holiday Party in place of that month's regular meeting.  Through these venues we promote the increased political activity of Democratic women in Texas politics and government.
Our regular club meetings are on the fourth Thursday of the month at 6:45 PM.  We meet at the Northaven United Methodist Church, 11211 Preston Rd, Dallas, TX 75230-3457 (between Forest and Royal Lanes.)
Our mailing address is 17201 Hidden Glen Drive, Dallas, TX 75248.
In addition to this website, we publish a monthly newsletter entitled The Link and we do frequent emailing covering topics of interest to our members.  The emails are always identified as being from NDTDW with a brief description that allows recipients to determine their interest without opening them. If you are interested in receiving The Link, click here. Be sure to provide us with your complete mailing address as The Link is delivered the old fashioned way … by "snail mail"!



NDTDW collects personally identifiable information when you fill out a Membership/Renewal Form, such as your e-mail address, physical address, name, and phone number, occupation and employer.  This information is used to keep you notified of club events via email and our newsletter The Link.  It is also used in reporting to the Texas Ethics Commission since we are a Political Action Committee.   NDTDW does not sell, rent or lease its member lists to third parties.  If you have any questions about our policies, please do not hesitate to contact us at info@nddw.org.